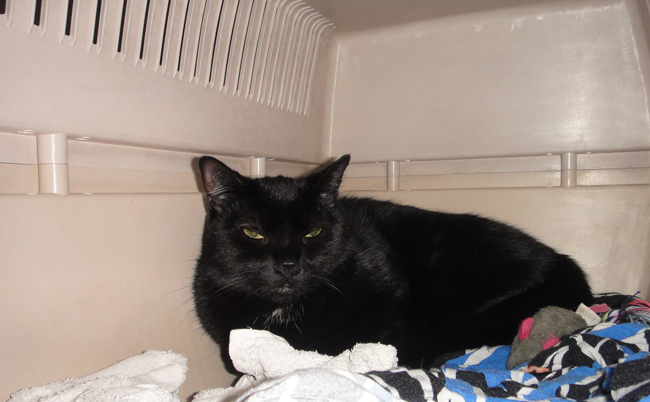 I'm Hoping To Tug At Your "Heartstrings" To Find This Nice Black Cat A "Place To Be Loved"!
COVID-19 has many of us "house-bound" and pet adoption inquiries are way up, but still adult cats have a hard time finding homes. Without available foster homes and people choosing to adopt adult cats many cats must be returned to the place were they were found after being altered to live a life of uncertainty simply because there was no home waiting for them.
You could become a foster parent, or a life-time home to a lost, abandoned or stray cat that may not look good until you see them after they are all fixed up looking better than when they arrived… Similar To A Model That Struts Down The "Cat-Walk", That May Have Taken 20 People To Make Her Look That Good!
Black cats happen to be a favorite of mine. Black cats remind me of a black cat that I called my husband. When I was asked why I called him my husband, I replied, "because he sleeps with me and snores!"
Oh, I loved that black cat. When he came into the rescue he had some serious battle scars, skin cancer and "ouch" his eyelashes were rubbing on his corneas due to "eyelid agenesis"; a congenital defect where the upper eyelid is not formed.
Many thousands of dollars later after eyelid surgery and daily topical skin cancer treatment he was looking really good and the black cat that I called my husband was adopted. His scars had faded like the memory of his past and his life was the fairy-tale that ended with him being loved!
With your help, this nice black kitty could have a "rags to riches Cinderella Story", too! He just had "cryptic" neuter surgery, which removed the testicle that hadn't descended into the scrotum and he is ready to find "someone to love" and a place of his own.
Imagine yourself helping by coming forward, telling a friend, or a family member about this nice cat so he won't go back on the street! To Help, Call/Text 949-759-3646, or email community@animalnetwork.org
Every day a local animal needs Community Animal Network. If you cannot foster or adopt it would mean a lot to me if you would consider donating to Community Animal Network, the charity I founded in 1996. Every dollar counts, please give to help local cats and dogs!
DiAnna Pfaff-Martin Founder, Community Animal Network, 949.759.3646, founder@animalnetwork.org